ercatoJ anatomy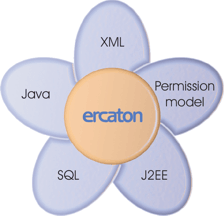 ercatoJ uses bright ideas from several ancestors.
It uses XML to represent and persist rich structures, XSLT may express business logic and views.
It uses SQL as an accelerator for unsacrificed performance. Even inner and outer joins are available. However, SQL as a language is considered deprecated.
It uses and complements J2EE, e.g., transactions, sessions, authentication.
It uses an extended Unix file system semantics (incl. x- and s-bits) to express rôle-based permissions by instance, not by class. As a consequence, protection ensures that two different rôles may see different data from the same SQL query.
It uses Java and its object-oriented model. Business logic may be expressed in arbitrary Java.
It uses the Unix philosophy of many small building blocks which cooperate towards a whole which is more than the sum of its parts. ercatons are the parts, the J2EE application is the whole. The concept of several users conributing parts in a secure manner is implemented, too.
It uses the concept of prototype-based languages such as 'Self' where objects are created without a class.
---